Karman Infotech offers a wide range of solutions designed to help small & mid-size businesses develop and implement effective strategies that keep business moving in the right direction. We understand the need of consultancy & our experts are always ready to design customized solutions as per your requirements.
Business Challenges at a Glance:
Higher IT infrastructure spends with reduced budgets

Lack of transparency in infrastructure managed services

Service management integration within a multi- sourced IT environment

Inability to effectively respond/ adapt to the changing technology world.

Latency in information access and reduced reliability and scalability
From requirement gathering to IT infrastructure strategy, we provide a full range of consultancy services and support to help take the hassles out of your IT infrastructure. Consultancy not only gives you an expert opinion but also helps you better understand your IT infrastructure, helps you streamline your investments thus saving money. It also helps you set a predictable budget for your requirements with also in the optimum usage of the resources. We help you enhance business performance, align technology with business priorities, reduce costs, improve service speed and flexibility, and achieve long-term success. Our complete spectrum of services help you build and manage a highly available, reliable IT infrastructure that is capable of meeting the dynamic / changing needs of your businesses. Our offerings are based on assess, build, manage and transform framework.
Feel free to connect with us for your IT assessment & consultancy needs.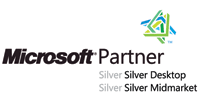 This logo is for Microsoft partners with Silver level competency in Desktop & Midmarket Solutio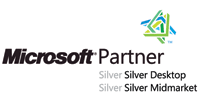 This logo is for Microsoft partners with Silver level competency in Desktop & Midmarket Solutio