Our Team
CEO & Technology Specialist
Jasmit with over 25 years of technology experience and over 20 years of industry knowledge, is today chiefly responsible for the Vision, Strategy and Service Offerings of Karman Infotech. His deep understanding of technology, inborn leadership skills and the passion for this industry led him to venture into business at the age of 19.
He started his career by offering services to the banking sector. With over two decades of experience in business, technology & education, Jasmit leads Karman Infotech as CEO & Technology Specialist. His passion and innovative ideas have always motivated the staff to do something extraordinary. Due to his in depth knowledge, he is often consulted by many small to Enterprise sized organizations for periodical IT Assessments, design and management of their IT Architecture. Jasmit has also served as a guest faculty with various education institutions and is actively engaged with many leading businesses of the region as their Technology Consultant.
With over 11 years of experience in the field of software programming and marketing, Neeru has a very unique and diversified experience. She has been a consultant to many of new businesses set up for shaping up not only their infrastructure but also how they can market their services / products. She has been a trainer at many of the leading instutites of the region and has also shaped up the career of thousands of students / freshers. She has often been called for guest lectures and industry interaction programmes at many Universities and colleges. At Karman Infotech with her exceptional leadership skills, she has produced a very effective and satisfied workforce by wisely identifying the interest and capabilities of every individual and redefining roles accordingly.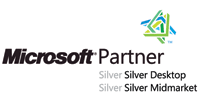 This logo is for Microsoft partners with Silver level competency in Desktop & Midmarket Solutio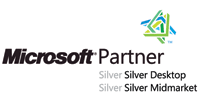 This logo is for Microsoft partners with Silver level competency in Desktop & Midmarket Solutio