Travelopod.com:
Tying up with Karman Infotech has helped me save my investment in an IT manager. Being our Service Provider, they have not only deployed Wi-Fi, IP Security Cameras, Virtualized our environment to reduce our capital investment & recurring costs but have also ensured the smooth functioning of our infrastructure. We being a 24*7 operational company can't afford a downtime of even a second. Karman Infotech ensures support available to us even at the odd hours which make us worry free.
ACM Shipping (India) Pvt. Ltd.:
When we started our operations in India, we faced lot of challenges like latency, poor connectivity etc. Our data center is in UK and all our employees' login to the servers located there to work but due to high latency, our productivity was suffering even when we had 8 Mbps connectivity. On approaching various SI's, we got a solution of IPLC which was costing us 50,000 pound annually which is a huge investment. Its then, Jasmit came up with the solution of load balancing via different ISPs which solved our problems in just few hundred pounds. Since then, Karman Infotech has been our consultant for all our IT needs.
Gulzar Group of Colleges:
We came in contact with Karman Infotech in year 2010 when we were setting up labs of our college. We were exploring various brands to set up our computer labs. Mr. Jasmit Singh from Karman Infotech came up with a very cost effective solution where we were getting branded machines along with the licenses, complete networking & the UPS at a mere cost of Rs. 18,000 approx. We were surprised to see that we were not only saving a lot on our initial Investment but also on Recurring expenditure. The solution was simple but can only be offered by a customer centric SI. It was implementation of HP Thin Clients on a new platform for education by Microsoft called Windows Multipoint Server. Not only were they flexible enough to upgrade us to a newer version after a year of service but also got a professional organization to make a video case study of our campus which involved our entire faculty, students and management team. We are now listed on Microsoft Website.
Thanks to Team Karman for enabling us to explore new technologies time and again.
​
Kwality Regency:
Wi-Fi for a hotel plays an important role as these days everyone uses smart phones, emails access etc. Karman Infotech has given us a solution which not only enabled us to offer Wi-Fi to our Clients but also enabled features like bandwidth management, user management & above all billing software. Device is such that it goes with any interior, emits light and fits just perfect in the ceiling.
Children's Hospital:
We are a pediatric super specialty tertiary healthcare center and started our operations in Chandigarh in the year 2010. When we were setting up our infrastructure, we were looking for IT people to set up computers, HMS, security etc. We met many IT people but found Neeru from Karman Infotech to be knowledgeable who not only understood our requirements but also came up with the complete design of our IT Infrastructure. They not only setup our datacenter but also implemented HP thin clients making our manageability easy and eliminating the need for an IT Manager. In these three years we have never ever faced a problem of Virus, any down time of servers and have never felt the need to refresh our systems or hire an IT Manager. We were given free training and a resident engineer for the initial months by Karman Infotech to help us better understand IT.
Thanks to Team Karman for setting up such a robust & reliable Infrastructure.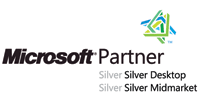 This logo is for Microsoft partners with Silver level competency in Desktop & Midmarket Solutio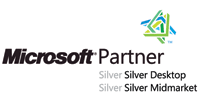 This logo is for Microsoft partners with Silver level competency in Desktop & Midmarket Solutio