Virtualization - An IT enabler
Back in the early days when we started our partnership with Microsoft India, we learnt the deploying the 'much needed' Identity, Security, Mail and other platforms were a need with the small and medium sized organizations but deploying them and convincing the price conscious business heads was a huge channenge in most cases. The evolving Virtualization platforms from both Vmware and Microsoft made it the solutions cost effective and helped us gain a good client base.
​
The current platforms from Microsoft, Vmware, RedHat, and Oracle have made the idea of Virtualization more accessible, simpler and feature rich much easier to adopt by modern businesses. It has also important to note that very basic hardware from Vendors like Intel & AMD now support Virtualization which was only possible with high end versions of Desktops, Workstations and Servers earlier.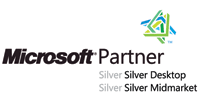 This logo is for Microsoft partners with Silver level competency in Desktop & Midmarket Solutio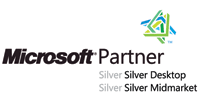 This logo is for Microsoft partners with Silver level competency in Desktop & Midmarket Solutio